By Anderson Dental
April 21, 2022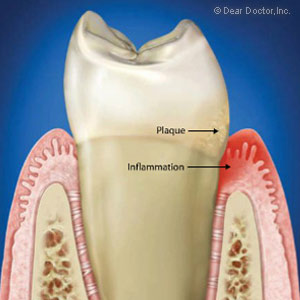 Gum disease's impact goes well beyond your teeth and gums—other aspects of your health can suffer too. Here's why.
Gum disease targets the gums, connective tissues and bone that support the teeth. These bacterial infections arise mainly from dental plaque, a thin biofilm that builds up on tooth surfaces. The risk is higher if you're not adequately cleaning your teeth of dental plaque every day with brushing and flossing.
As the infection ravages through your periodontal structures, you could eventually lose affected teeth. But two important aspects of gum disease also increase the risk of harm to other parts of your body.
For one, gum infections contain high levels of harmful bacteria and toxins. As periodontal tissues break down, these toxins can enter the bloodstream and spread infection to other parts of the body.
In the second aspect, inflammation normally occurs in diseased gum tissues in response to the infection. Although a crucial part of the body's defense mechanism, inflammation that becomes chronic (as it often does with gum disease) can itself become harmful.
Some research seems to show that gum inflammation might also influence other inflammatory diseases like diabetes, cardiovascular disease or arthritis to make them worse. Conversely, these conditions could also elevate your risk for a serious gum infection.
Gum disease can also affect pregnancy, and vice-versa. Because of hormonal changes, pregnant women have a higher risk for developing gum infections. And an active gum infection and its associated bacterial load could likewise affect the overall health of both mother and unborn child.
In light of its potential impact on your whole body and not just your mouth, it's prudent to prevent gum disease or promptly treat it should it occur. As previously mentioned, daily oral hygiene is foundational to dental disease prevention, with regular dental cleanings and checkups further reducing your risk of infection.
You should also watch for signs of infection, including swollen, reddened or bleeding gums. If you notice anything out of the ordinary, make a dental appointment as soon as possible. The earlier we can identify gum disease and begin treatment, the less damage it will cause your gums—and the rest of your health.
If you would like more information on how your oral health can impact your well-being, please contact us or schedule an appointment for a consultation. You can also learn more about this topic by reading the Dear Doctor magazine article "Good Oral Health Leads to Better Health Overall."
This website includes materials that are protected by copyright, or other proprietary rights. Transmission or reproduction of protected items beyond that allowed by fair use, as defined in the copyright laws, requires the written permission of the copyright owners.