Posts for tag: partial denture
By Anderson Dental
March 02, 2022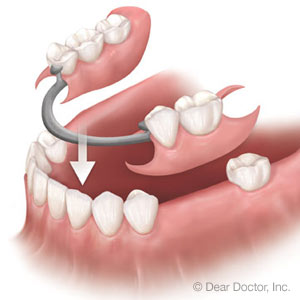 Dental implants are often the ideal choice to replace missing teeth. Unfortunately, "ideal" and "affordable" don't always align simultaneously for people. Even if implants are right for you, you may have to put them off to a more financially appropriate season.
In the meantime, though, you're still missing teeth—and perhaps some of them are right square in the middle of your smile. What can you do now, even if temporarily?
The solution might be a flexible removable partial denture (RPD). These newer types of RPD fit somewhere between the lightweight "flipper" and the more traditional rigid plastic appliances often made for permanent use. The flexible RPD is made of nylon plastic (technically known as a super-polyamide), which although lightweight, is highly durable.
Super-polyamides change their shape under high heat, a characteristic dental technicians take advantage of by injection molding heated material into flexible denture bases, to which they then attach the replacement teeth. Like other RPDs, a flexible RPD is custom-designed for the individual patient to match their jaw contours, as well as the types and locations of their missing teeth.
Flexible RPDs also differ from other RPD types in how they stay in place. While the more rigid RPD depends on metal clasps that grip to some of the remaining natural teeth, a flexible RPD uses finger-like extensions of the nylon material to fit around teeth near the gum line where they're difficult to see. As such, the flexible RPD is both comfortable and securely held in place.
A flexible RPD, like their counterparts, does require regular maintenance. Any RPD can accumulate dental plaque, a thin biofilm buildup on teeth that causes dental disease. For this reason, wearers should regularly remove their RPD and clean it thoroughly with an antibacterial soap (never toothpaste). All RPDs should also be removed at night to limit bacterial growth.
With a little care, a flexible RPD could last for several years. It could be just the solution to buy you time while you're waiting to obtain dental implants.
If you would like more information on restoration options for missing teeth, please contact us or schedule an appointment for a consultation. You can also learn more about this topic by reading the Dear Doctor magazine article "Flexible Partial Dentures."
By Anderson Dental
February 13, 2017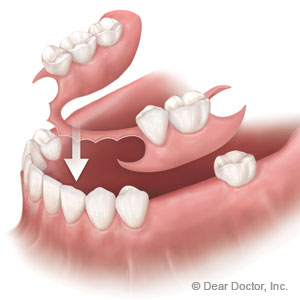 Dentures in one form or another have been around for centuries. Although dental implants have earned a well-deserved prominence of late, the denture still remains a viable tooth replacement option.
What's more, dentures aren't reserved for total tooth loss only. Even if you've lost just a few of your teeth, we can fit you with a removable partial denture (RPD). Although mainly considered a temporary solution for missing teeth, some people depend on an RPD for many years due to finances or other issues.
The traditional RPD consists of a rigid acrylic plastic base that resembles gum tissue supported by a metal framework, with prosthetic (false) teeth precisely placed to fill the space of the missing teeth. They're held in place with metal clasps that extend from the metal framework to fit over the remaining natural teeth.
Although they're an effective restoration, traditional RPDs have a few drawbacks. Some people find them uncomfortable to wear or have an allergy to the acrylic plastic. They also have a propensity to stain from beverages like tea, coffee or wine.
But there's a more recent version called a flexible RPD that addresses these and other concerns. It's made of a pliable nylon that's durable, yet comfortable to wear. Rather than metal clasps, they're secured in place with thin, finger-like nylon extensions that fit into the small, natural depressions in the crowns of the teeth around the gum line.
Flexible RPDs are also highly adaptable to appear life-like in many situations. We can fashion the nylon base to cover areas around natural teeth where the gums may have receded due to gum disease.
They do, however, have a few downsides. Unlike traditional dentures, they're difficult to reline or repair. Like any oral appliance, they can suffer from wear and neglect, so you must properly clean and maintain them. And, like any RPD their best role is as a temporary bridge rather than a permanent restoration.
In the meantime, though, you can count on a flexible RPD to restore your ability to eat and speak proficiently, as well as smile with confidence. It's a great affordable way to address a few missing teeth.
If you would like more information on dentures as a restoration option, please contact us or schedule an appointment for a consultation. You can also learn more about this topic by reading the Dear Doctor magazine article "Flexible Partial Dentures."