Posts for tag: dental implant
By Anderson Dental
December 26, 2020

Dental implants are a reliable way to replace teeth. More than 95% of implants survive ten years after their installation, and many of these could conceivably continue for decades.
But that still leaves a tiny few that don't reach the ten-year mark. Some fail early because the implant didn't integrate fully with the bone to create a durable hold. But others fail later—usually for one of two major causes.
Some failures occur due to over-stressing of the implant from abnormally high biting forces, usually because of teeth grinding. People who have this involuntary habit generate excessive force as they grind their teeth, which can damage implants (as well as natural teeth). To reduce this force, a patient's dentist can fit them with a biteguard they wear in the mouth to prevent teeth from making solid contact with each other during a grinding episode.
Fortunately, teeth grinding isn't that prevalent among adults—but that can't be said about the other major cause for implant failure: periodontal (gum) disease. This is a bacterial infection caused by dental plaque, a thin, bacterial film that accumulates on teeth. The implant itself isn't affected by the infection, but the gums and underlying bone supporting the implant can be.
Implants are most in peril from a form of gum disease called Peri-implantitis, which spreads deeper into the gum tissues around implants faster than infections around natural teeth. That's because implants lack the gum attachment of real teeth, which supply a collagen barrier that slows the spread of infection. Peri-implantitis can quickly infect the supporting bone and eventually weaken its connection with the implant.
Because of its aggressiveness and speed, we must diagnose and treat peri-implantitis as soon as possible to limit any damage to the support structures around an implant. If you notice any swollen, reddened or bleeding gums, you should call your dentist as soon as possible for an examination.
And in light of this potential danger to your implants, you should also strive to prevent gum disease through daily oral hygiene. Brushing and flossing your teeth, including around your implants, removes harmful plaque buildup. This daily habit and regular dental cleanings will help you avoid a costly gum infection and ensure your implants are there for years to come.
If you would like more information on dental implants, please contact us or schedule an appointment for a consultation. You can also learn more about this topic by reading the Dear Doctor magazine article "Dental Implants: A Tooth-Replacement Method That Rarely Fails."
By Anderson Dental
July 09, 2020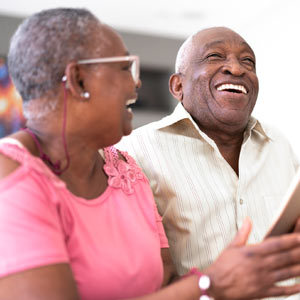 Complete tooth loss is a common condition among older adults, gradually occurring one or two teeth at a time. There often comes a point of realization, though, that all the teeth will eventually be lost.
This can create a dilemma: Do you replace teeth as they're lost, or go ahead and have all of them removed at one time?
Up until recently, the latter choice seemed the most practical and affordable. But most dentists would agree that keeping natural teeth for as long as practical is better for a person's overall oral health and to slow any potential bone loss.
The emergence of dental implants has made this less of a dilemma: We can use this technology to more affordably replace teeth in stages rather than all at once. This is because an implant is technically a root replacement: a dentist inserts a titanium metal post into the jawbone. Because of an affinity with titanium, bone cells grow and adhere to the implant surface, which creates a stronger hold. It also impedes bone loss.
We can, of course, use implants as individual tooth replacements. But the expense of this approach with multiple teeth puts it well out of reach financially for many people. But implants can also be used as connective points between the patient's jaw and other kinds of dental restorations like bridges, partial dentures, and full removable or fixed dentures.
Using this approach, we can adopt a strategy of allowing healthier teeth to remain until it's necessary to remove them. We initially place implants to support a bridge, for example; later we can use the same implants along with additional ones to support a larger restoration, even a fixed full denture.
An implant-supported restoration is typically more expensive than traditional bridges or dentures, but far less than replacing teeth with individual implants. And because the stages of restorations may occur over a long period of time, the cost can be spread out to make it more manageable.
If you're facing a future where it's likely you'll lose all your teeth, you don't have to lose them all at once. Staged restorations with implants could help you hold on to your natural teeth for as long as possible, slow bone loss and make for a healthier mouth.
If you would like more information on the wide array of dental restoration options, please contact us or schedule an appointment for a consultation. You can also learn more about this topic by reading the Dear Doctor magazine article "Replacing All Teeth But Not All at Once."
By Anderson Dental
September 03, 2019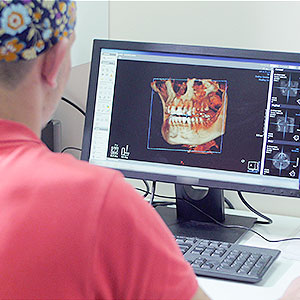 Compared to other dental restorations—a few of which have been around for over a century—implants are a relatively recent development. But even though it's just now entering its fourth decade, recent advances have catapulted implant therapy well beyond where it began.
That's due mainly to digital technology. Two examples of this, computed tomography (CT) and 3-D printing, are increasing the accuracy and efficiency of implant placement.
Properly placing an implant is one of the most important elements in achieving a natural and attractive result. But finding the best location is often difficult due to a lack of suitable bone volume, the patient's bite or the proximity of anatomical structures like nerves and blood vessels. CT imaging, especially Cone Beam CT scanners (CBCT), is helping to make implant placement planning easier.
Unlike the static, two-dimensional views of standard x-rays, CBCT takes hundreds of images and digitally blends them together to create a virtual 3-D model of the patient's jaw and face. Dentists can view this highly detailed model on a computer monitor from various vantage points and better identify possible obstructions. With better information about what "lies beneath," they can more accurately pinpoint the best implant site.
Creating the ideal plan is one thing—successfully implementing it is another. Dentists often create a surgical guide that helps them drill in precisely the right positions during surgery. The guide, which resembles a mouthguard, fits over the gums and contains marker locations for drilling.
Many dentists are now using 3-D printing to create these surgical guides. A 3-D printer turns a digital model of the guide based on measurements of the patient's mouth and proposed implant locations into an actual physical object "printed out" layer by layer of special polymer material. The end product can be more precise than guides created by other means.
These and other technological developments are helping implant therapy rise to a new level of success. With the resulting increase in accuracy, efficiency and less treatment time, tomorrow's implant patients will be the ultimate beneficiaries.
If you would like more information on restoring missing teeth with dental implants, please contact us or schedule an appointment for a consultation. You can also learn more about this topic by reading the Dear Doctor magazine article "How Technology Aids Dental Implant Therapy."