Posts for tag: Toothache
By Anderson Dental
November 16, 2020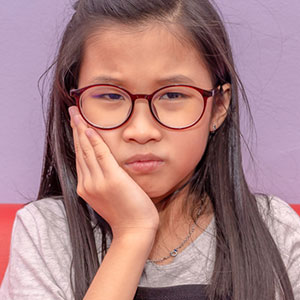 Perhaps the only thing worse than having a toothache of your own is when your child has one. Tooth pain can be a miserable experience, especially for children. It can also be confusing about what to do to deal with it.
Fortunately, a toothache usually isn't a dental emergency, so take a deep breath. Here's what you should do if your child is experiencing tooth pain.
Get the 411 from them. Before you call the dentist, find out more first about the tooth pain from your child with a few probing questions: Where exactly does it hurt? Do you feel it all through your mouth or just in one place? Is it all the time, or just when you bite down? When did it start? You may not get the same level of detail as you would from an adult, but even a little information helps.
Take a look in their mouth. There are a lot of causes for toothache like a decayed tooth or abscessed gums. See if any of the teeth look abnormal or if the gums are swollen. You might also find a piece of food or other particle wedged between the teeth causing the pain. In that case, a little dental floss might relieve the problem.
Ease the pain. While you're waiting on your dental appointment, you can help relieve some of their discomfort by giving them a child-appropriate dose of ibuprofen or acetaminophen. You can also apply an ice pack on the outside of the jaw for five minutes on, then five minutes off to decrease swelling. Under no circumstances, however, should you give your child aspirin or rub it on the gums.
See the dentist. It's always a good idea to follow up with the dentist, even if the pain subsides. In most cases, you may be able to wait until the next day. There are, however, circumstances that call for a visit as soon as possible: if the child is running a fever and/or has facial swelling; or if the tooth pain seems to be related to an injury or trauma.
It can be unsettling as a parent when your child has a toothache. But knowing what to do can help you stay calm and get them the care they need.
If you would like more information on pediatric dental care, please contact us or schedule an appointment for a consultation. You can also learn more about this topic by reading the Dear Doctor magazine article "A Child's Toothache."
If you've ever had a bad toothache, you know how it can take over your life. For long-lasting relief, call Anderson dental in Fargo, ND. Our three dentists respond to dental emergencies quickly and kindly. Dr. Brad Anderson, Dr. Jon Anderson, and Dr. Breding want you to feel good and have your best smile.
What causes toothaches?
Toothaches have several distinct causes, including:
Deep dental decay which extends into the interior pulp and beyond
Dental sensitivity which hangs on when your tooth is exposed to heat or cold
Deteriorating restorations, such as crowns and fillings, and the infiltration of harmful oral bacteria
Impacted wisdom teeth (third molars encased in gum tissue and bone)
Bone and gum deterioration due to gum disease
Dental abscess or infection
Fracture of tooth structure from oral trauma
Arthritis in the jaw (or other sources of jaw joint dysfunction)
Sinus infection
Bruxism, or habitual teeth grinding or clenching related to stress
Poor dental bite and other smile alignment issues
Solving the problem
If you have a dental emergency—such as intense dental pain and/or injury—contact Anderson Dental in Fargo, ND, right away. You'll receive first aid advice to stabilize your condition and relieve your pain. Also, you'll receive a same-day appointment if needed.
Intervention includes a complete oral exam and digital X-ray imaging. This information helps your dentist diagnose your problem and to address it with the right restorative service.
For instance, if you have an abscessed tooth, you may require root canal therapy in which your dentist removes the diseased interior pulp, disinfects and seals each narrow root canal, and crowns the tooth. Root canal therapy relieves toothache symptoms right away and allows you to keep the tooth instead of extracting it, says the American Association of Endodontists.
Prevention is key
To avoid toothaches or other dental emergencies, see your dentist at Anderson Dental in Fargo, ND, every six months for a cleaning and check-up. Eat a low-carbohydrate diet, and brush and floss daily. Good home habits significantly reduce the incidence of decay and gum disease.
At Anderson Dental, our professional team offers a wide range of preventive, restorative, and cosmetic services to help you achieve your best oral health. Call us if you have a dental emergency: (701) 232-1368.