Posts for: April, 2021
By Anderson Dental
April 16, 2021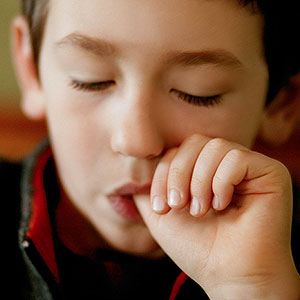 There are many things to be concerned about with your infant. Thumb sucking shouldn't be one of them—at least not yet. Practically universal among young children, the habit normally fades by age four with no real harm.
If it persists beyond that age, however, it can lead to a poor bite (malocclusion). Late thumb sucking may also have a connection with another problem—the inability of a child to transition from an infantile swallowing pattern to an adult pattern.
A baby while swallowing thrusts their tongue forward to help create a seal around a breast or bottle nipple during nursing. This normally changes about age 4, though, to a positioning of the tongue against the roof of the mouth when swallowing. But if they don't transition and continue to thrust the tongue forward, it can place undue pressure on the front teeth and cause them to develop too far forward.
The result may be an open bite, in which a gap exists between the upper and lower teeth even when the jaws are shut. An open bite can also happen with late thumb sucking, but instead of the tongue, their thumb presses against the teeth.
As to thumb-sucking, parents should encourage their child to stop the habit beginning around age 3, if they haven't already begun to do so. The best approach is to use some form of positive reinforcement such as praise or treats. The sooner the habit ceases after age 4, the lower their risk for developing an open bite.
You may also need to be alert to continued tongue thrusting while swallowing, which may still continue even after they no longer suck their thumb. In that case, your child may need orofacial myofunctional therapy (OMT), a series of exercises directed by a trained therapist to retrain the muscles involved with swallowing. This therapy could further help a child properly transition to an adult swallowing pattern.
Open bites can be corrected orthodontically later in life. But by being alert to your child's oral habits, as well as the way they're swallowing, you and your dentist may be able to intervene and eliminate or at least lessen the development of this type of problem bite.
If you would like more information on how to manage thumb sucking, please contact us or schedule an appointment for a consultation. You can also learn more about this topic by reading the Dear Doctor magazine article "How Thumb Sucking Affects the Bite."
By Anderson Dental
April 06, 2021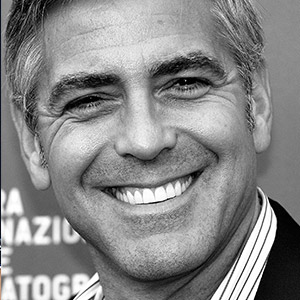 Since his breakout role as Dr. Doug Ross in the 90's TV drama ER, George Clooney has enjoyed a blockbuster career as an award-winning actor, director and producer. He's still going strong, as seen in the recent film The Midnight Sky, which Clooney directed and starred in. This sci-fi drama set a record as the most-watched movie on Netflix for the first five days after its late December release. And although now well into middle age, Clooney still possesses a winsome charm epitomized by his devil-may-care smile.
But he didn't always have his enigmatic grin. Early on, his struggles pursuing his burgeoning acting career triggered a stressful habit of grinding his teeth. This took a toll, as his teeth began to look worn and yellowed, giving his smile—and him—a prematurely aged appearance.
Clooney's not alone. For many of us, our fast-paced lives have created undue stress that we struggle to manage. This pent-up stress has to go somewhere, and for a number of individuals it's expressed through involuntary grinding or gritting of the teeth. This may not only lead to serious dental problems, but it can also diminish an otherwise attractive smile.
There are ways to minimize teeth grinding, the most important of which is to address the underlying stress fueling the habit. It's possible to get a handle on stress through professional counseling, biofeedback therapy, meditation or other relaxation techniques. You can also reduce the habit's effects with a custom-made oral device that prevents the teeth from making solid contact during a grinding episode.
But what if teeth grinding has already taken a toll on your teeth making them look worn down? Do what Clooney did—put a new "face" on your teeth with dental veneers. These thin layers of porcelain are bonded to teeth to mask all sorts of blemishes, including chips, heavy staining and, yes, teeth that appear shortened due to accelerated wearing. And they're custom-designed and fashioned to blend seamlessly with other teeth to transform your smile. Although they're not indestructible, they're quite durable and can last for years.
Veneers can correct many mild to moderate dental defects, but if your teeth are in worse shape, porcelain crowns may be the answer. A crown, which bonds to a prepared tooth to completely cover it, allows you the advantage of keeping your natural tooth while still enhancing its appearance.
Although different in degree, both veneers and crowns require permanently altering the teeth, such that they will require a dental restoration from then on. But if you're looking for an effective way to transform your worn or otherwise distressed teeth into a beautiful smile, it's a sound investment.
Just like George Clooney, your smile is an important part of who you are. We can help you make it as appealing as possible with veneers or other dental enhancements. Call us today to get started on the path to a more attractive smile.
If you would like more information about dental veneers and other smile enhancements, please contact us or schedule a consultation. To learn more, read the Dear Doctor magazine article "Porcelain Veneers."