Posts for: October, 2020
By Anderson Dental
October 17, 2020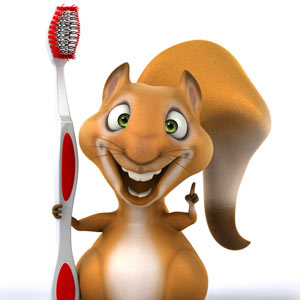 The humble squirrel—darlings to some, bird feeder-robbing nuisances to others—has its own month. Since 1995, the Squirrel Lovers Club of Chicago has celebrated October as Squirrel Awareness Month to pay tribute to this diverse family of rodents with over 270 species. It's also an opportunity to indulge in our favorite "squirrelly" fact: Squirrels' teeth don't stop growing.
And we do mean grow. A squirrel's four front incisors increase about 6 inches a year—a good thing since squirrels put those teeth through their paces gnawing through hard-shelled nuts and seeds. If they didn't keep growing, you'd see plenty of squirrels with worn-to-nothing front teeth.
We humans have some cause to be envious because, unlike squirrels, our permanent teeth stop growing by the time we reach adulthood. That could be a problem since nearly all of us encounter tooth wear as we age.
And it could be even worse. Bad habits like crunching ice, biting into hard foods or using our teeth as tools can contribute to accelerated wear. Some people also involuntarily clench or grind their teeth, creating higher than normal pressure that can wear down teeth.
Suffice it to say, it's worth the effort to quit conscious bad dental practices to prevent your teeth from wearing faster than normal. A teeth-grinding habit, though, may require more than willpower: We'll need to look at other ways to reduce its effect on your teeth.
First, you may want to try to reduce chronic stress, the top contributor to adult teeth grinding. Better stress management with the help of counseling, relaxation techniques, biofeedback or group therapy can all help reduce the occurrence of this destructive habit.
Such efforts, though, can take time. In the meantime, we may be able to help you reduce the effect of a grinding habit with a custom-made mouth guard. This plastic guard worn in the mouth prevents teeth from making hard contact with each other during grinding, and so it reduces the damaging forces that can wear down teeth.
By the way, if you've already experienced excessive tooth wear, not all hope is lost. We may be able to restore your teeth to normal length with the help of bonded porcelain veneers or crowns. After a thorough evaluation, we can give you options for turning back the "age clock" on your smile.
Our teeth may not continuously grow like squirrels', but we can still protect them from the effects of excessive wear. Good dental practices and habits—and restorative measures when necessary—can keep your smile looking as young as ever.
If you would like more information about tooth wear, please contact us or schedule a consultation. To learn more, read the Dear Doctor magazine article "How and Why Teeth Wear."
By Anderson Dental
October 07, 2020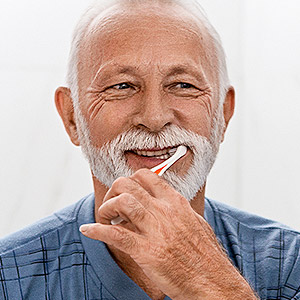 Little things add up. Like your three meals a day, which could total over 87,000 by the time you're eighty. If you average a full night's sleep every night, you will have whiled away over a quarter of a million hours in slumber by your diamond birthday. And if you're the typical American, you will also have spent over 900 hours (or nearly 40 days) brushing your teeth.
If that last example sounds like a lot, it's actually not: If it's a daily habit, that's about two minutes of brushing a day. But that little bit of time could have an incredible impact on your dental health over a lifetime. That's why dental providers commemorate October as National Dental Hygiene Month to call attention to just how important those 900-plus hours can be to a healthy mouth.
Brushing is important because of what a few strains of bacteria can do to your oral health. While most of your mouth's microscopic inhabitants do no harm (and some are even beneficial), the malevolent few cause tooth decay and gum disease, both of which could lead to tooth loss.
These bacteria live in and feed off of a thin biofilm of food particles called dental plaque. Over time, plaque and tartar (a hardened, calcified form) can build up on tooth surfaces. As it grows, so does the mouth's bacterial population and the risk for disease. In fact, just a few days of undisturbed plaque growth is enough time for a gum infection to get started.
Brushing your teeth removes this plaque accumulation, which reduces the bacterial levels in your mouth. A thorough brushing of all surfaces usually takes about two minutes, but it must be done every day to keep plaque at bay. So, yes, a little time spent brushing every day can be a big deal. That said, though, it's not the be-all and end-all of oral hygiene. You should also floss daily since plaque accumulates just as readily in the spaces between teeth where brushing can't reach. We, along with the American Dental Association, recommend brushing twice a day and flossing once a day for optimal oral health.
But no matter how proficient you are with brushing and flossing, you may still miss some spots. Be sure, then, that you also see us regularly for dental cleanings to thoroughly clean your teeth of plaque and fully minimize your risk of dental disease.
Oral hygiene only takes a little of your time each day. But it does add up—not only in the "days" you'll spend doing it, but in a lifetime of better dental health.
If you would like more information about getting the most out of your daily oral hygiene, please contact us or schedule a consultation. To learn more, read the Dear Doctor magazine article "Daily Oral Hygiene."